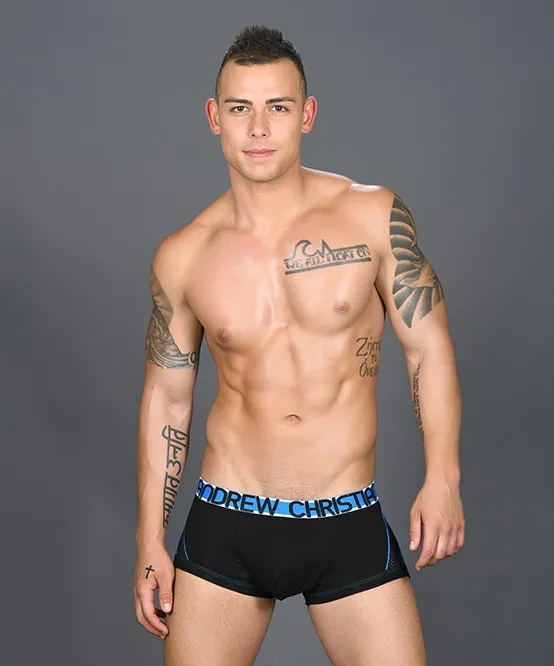 New underwear and swimwear by Andrew Christian - Summer 2019
Sep 23, 2019
To begin in 2019, Andrew Christian's new products arrived at Queerwaer. The ability to make you fall in love with the latest, sexy and best trends in the world of men's fashion. With his new collection, Andrew Christian promotes his unique style with patterns as diverse as colorful. Independent lingerie or swimwear, you will find what you want.
Newest Retro Men Underwear
The more classic, Retro lingerie is really a must. It is forever. Andrew Christian offers fun and original models with lots of pop art and bright colors, perfect for energizing collections. Famous with their innovative technology, their models offer simple and comfortable shapes and fabrics, but never at the expense of the quality of men's underwear. The details and the finished look of the collections are exceptional. Underwear guarantees absolute comfort and a perfect fit. The models are made up of Almost Naked or Show-it technology.
Modern and varied swimwear
Our new summer bathrobes by Andrew Christian are here to stun you. And you may be one of the lucky ones who go out in the sun in the winter. In either case, we invite you to discover Andrew Christian's latest swimwear. With a sporty, casual and sexy style, there is something for everyone. The bikes range from perfectly cut, with low waist to swimsuits to many simple swimming shorts, not forgetting swimsuits. Otherwise, for those who do not travel to the warmer side, it's never too late to start looking for your summer swimsuit.
Pride Collection 2019
This year Andrew Christian came out with another modern collection on Prix 2019. Like every year, they offer limited models that emphasize male physics and provide maximum comfort to masculine intimate parts through Almost Naked technology. New, sexy and stylish, the collection of Pride collection has bright rainbow colors to show your pride!
All models are designed at Andrew Christian's design studio in Los Angeles, California.
Do not miss a completely new category that offers lingerie, bathing suits, and accessories for Sofia Pride.
Our Favorite Models
We already have our favorites. Trophy Boy's boxers are original and elegant with their dark colors and mesh elements on the sides. They are made almost entirely of cotton and satisfy even the most sensuous intimate parts. They are perfect.
An absolute favorite this year is the Pride collection by Andrew Christian. With ease, we can say that this is our favorite collection this year.
The winner in the bans was quite difficult to set. In the clash of best swimwear by Andrew Christian 2019 won the ... Swimming Shorts Miami! What's more modern than swimming shorts to enjoy the sea this summer? The shorts are amazing and each item is limited. They feature an elegant look, contrast, mesh details, and a back pocket. What more do you want?
An award for innovation is given to Jocks' Love Spectrum. There is so much to be loved in Andrew Christian's "Love Design" collection. The design is great and the contrasting LOVE sign is absolutely genius! Like others, this model is limited and will not be available soon. With this jockstrap, you practically do not feel like wearing underwear! You are totally naked.
---