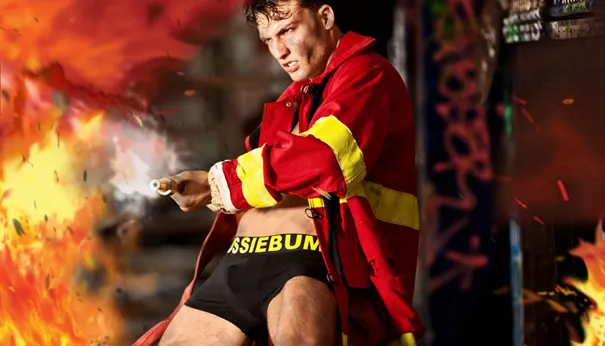 New line of men's underwear "Flame" by AussieBum
Sep 23, 2019
Aussiebum launched a new collection of men's underwear called Flame. The name literally means a flame, or if we have to describe the "visible part of the fire radiating heat and light". This is a collection of dandy men's underwear and a characteristic extra-wide lace with the name of the brand - aussiebum on a contrasting background with large silicon letters. For now, only those bundles and boxers are sold from this line, which is relatively deep with the dignified underwear style.
Various color combinations such as white and red, black with yellow or light blue with white are available. The commercials and pictures presenting the new line are about fire and firefighters, which reminds how good sexy lingerie can easily ignite a dangerous fire in the field of male groans. On this occasion, the founder and owner of the aussiebum brand. Sean Ashby says "Flame lingerie ignites such a fiery fire that once flaming cannot be extinguished."
The prices of this line of linen start at 35 leva and are relatively affordable for the good quality they offer. The fabric is a new specially made line for this line of 59% Plotter, 31% Cotton and 10% Elastane. It is made that the cloth closely follows the contours of the male body, while not inflating, but it remains the skin to breathe thoroughly.
Hot sexy and very energetic, this series of underwear is for men who are not afraid to play with fire. In our online store, this lingerie is often bought by ladies attracted by the beautiful wide elastic band and the fact that the model is "deep" and allows it to be worn by more sedentary men. The secret is that the belt in question helps to hide the male belly, and the fabric of the fabric makes men look a little thinner and tight (due to the special combination of fabrics).
In addition to the Flame line at our queerwear.net online store, you can find underwear from the aussiebum series: My Day, Flash, Hunk, Classic original, The Cup, Billy, Wonderjock and of course the legendary Property of which we will soon have new models.
---