When did I find out about men's Push Up?
Men's swimsuit, what's this? I first saw such swimsuits on my last trip to Barcelona. The spring was in full swing, the sun gently roasted, and the streets were filled with a mix of men and women coming from all over the world. I was walking and thinking about the upcoming summer and how to impress my colleagues and friends with whom I planned to spend my summer break. My wish was to buy something fresh and cool.
Moving away from the port of the famous Las Ramblas, I reached Plaça Universitat, where there was a great restaurant. My place was familiar because I had lunch there for two days and I was very pleased with the food. I walked past the restaurant and continued up the Carrer d'Aribau.
At a bigger intersection, I noticed an interesting boutique. I approached and saw that it was a shop of the ES Collection. Behind the booth, I was met by an athletic young boy in shorts and a tunic from which they looked tightly inflated breasts that contrasted perfectly with the muscular arms and shoulders. Although I did not look bad as a result of my daily gym workouts and gym, I sincerely envied him for the athletic body. Later I realized he was called Javier, he is rowing and ES is a sponsor of his team and he works here in his free practice.
For me, this shop was like Aladdin's cave. Since I am a real fan of the beautiful bodies and the beautiful men's underwear, which I really have hundreds of models in my wardrobe. The shop was divided into separate sections where sports clothing, underwear for athletes was sold - the bandages, there was a separate area for the slips, the boxers and of course the area for swimming shorts and swimsuits. The shorts were really great, but I already had three of them and wanted something different.
Then I saw these strange swimsuits that, although they were on a hanger, seemed to be as if they were dressed by some very gifted guy. Of course, the effect came from the built-in padding. Javier explained to me that it was made of silicone and seawater, or repeated washing cannot in any way damage it. He told me that the boys in their team even went to competitions with such swimsuits. To be even more convincing, he even took off his trousers to show me his underwear, which was similar to the underwear, like the swimsuit. His package really looked impressive, and I do not think it was just the padding. I had to have such a swimsuit - that was clear!
I went to the dressing room and started to measure some of the models I liked most. Javier helped me by giving me different sizes. I noticed he was opening the curtain a little more than he needed to look at me, which made it more difficult for me to choose my swimsuit because I was quite excited. Anyway, I managed to sort of handle this uncomfortable situation. I chose some white sport suits of the SUNGA series of ADDICTED, which really made me great, as well as some CONTRAST MESH SUNGS CUT with padding. I would have them, especially at this year's Thessaloniki party in September.
I paid, put the last smile on Javier and went out. We found out we were at the party tonight, where ESs were sponsors again. I went down the street, pleased with the just-made purchase. I had no patience to go down to the beach and try the bans in real conditions. As I go back to Sofia, I would have something to tell :).
---
2019-09-23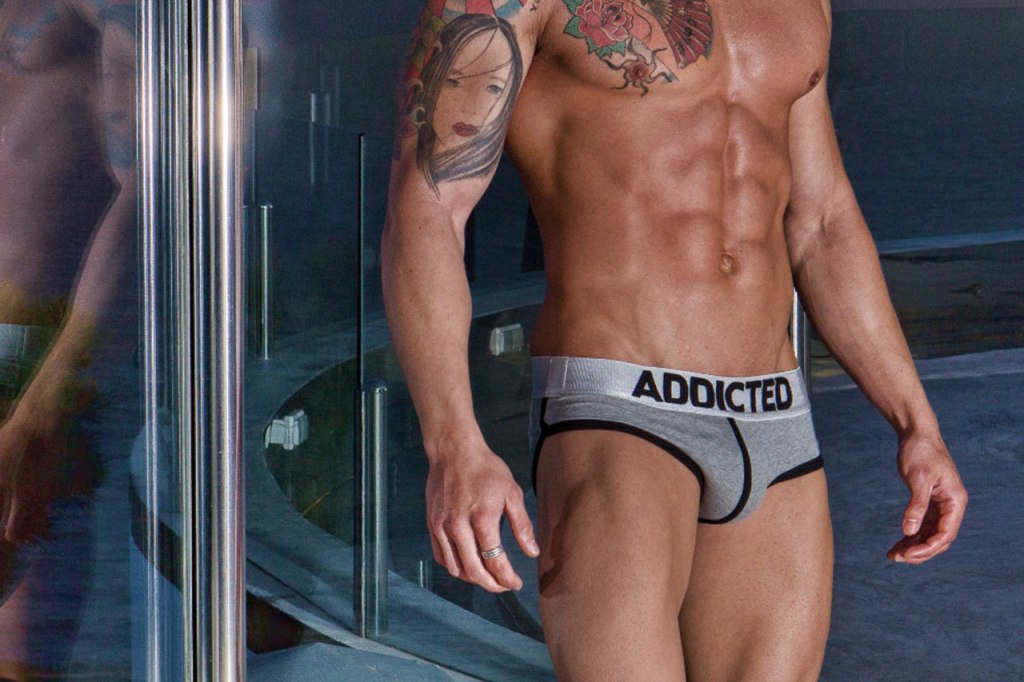 Men wear underwear. Almost everything. Almost always. Sometimes it is even washed...